SPOTLIGHT
|
October 28, 2021
Dance Battles and Stories to Boost COVID-19 Vaccinations
Two researchers are at the ready to gather feedback at a dance battle. Photo courtesy of Saint Louis Story Stitchers, 2021.
Dance battles might not look much like labs, but that's where researchers from Washington University go seeking insights into how young African Americans in North St. Louis think about COVID-19. It's essential knowledge for those working to increase the rate of vaccination in this underserved Missouri community.
Since July, Matthew Kreuter, Ph.D., professor of public health at the university's Brown School, and his team have been attending these outdoor dance battles and other similar local friendly competitions geared towards 16- to 24-year-olds.
"At first, they were just listening activities," explained Kreuter, who leads the CEAL research team in Missouri. But as they listened, distinct themes began to emerge that led to more questions and conversations. "Now we have a much clearer understanding about what's promising and what's not in the outreach to these groups," he said.
The dance battles are one of the many activities organized by the Saint Louis Story Stitchers Artists Collective, which, in a twist, happens to focus on urgent public health issues. Their projects create a platform for community engagement through an artistic lens and seek to shift perceptions, erase divisions, and "stitch" together their city.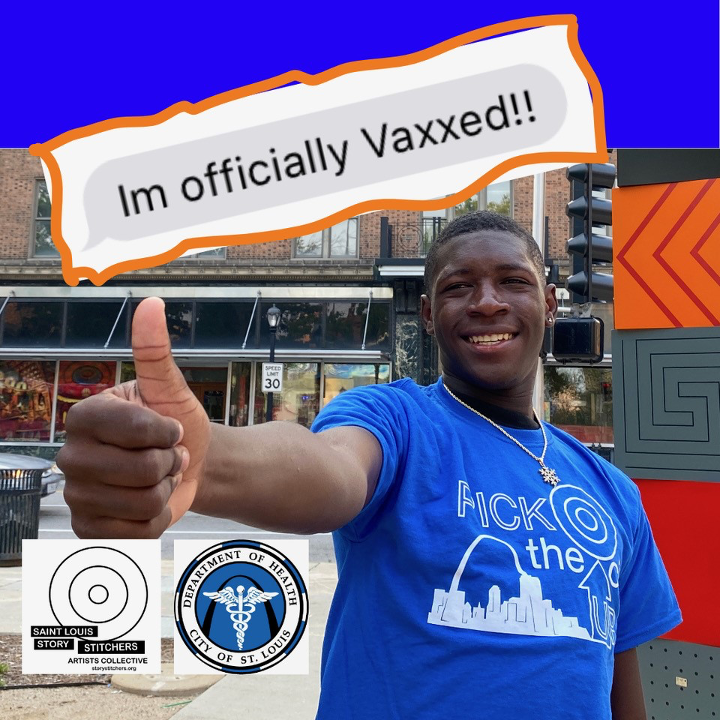 "We were founded on gun violence prevention," explained Susan Colangelo, Story Stitchers' president and executive director. "But COVID-19 feeds the violence and threatens us all, as we are performing. So, as the Delta variant drove in, I turned towards our partners to try to bring education around the pandemic to our community."
COVID-19 tore through St. Louis' African American community last year, and continues to do so, leaving behind a disproportionate burden of illness, death, and financial strain. With vaccination rates below 40% in North St. Louis, residents now lag in receiving the protection the vaccines afford.
One of the goals of CEAL is to connect with local agencies and community organizations to reach people who are unvaccinated. That's why the Missouri research team's partners include, among others, the St. Louis City Department of Health, St. Louis County Department of Health, St. Louis Covid-19 Regional Response Team, United Way of Greater St. Louis, and Centene Corporation's Home State Health.
"We should not be recreating capacity that already exists in the community," Kreuter said. "The youth project with Story Stitchers came out of attending one of the partners' meetings—the Interfaith Council."
For Colangelo, progress, in her words, has been "s-l-o-w." Among the youth with whom she works, "only two were enthusiastic [about getting vaccines] at first, but many more are moving over now," she said.
Kreuter sees the change. During every event, the researchers ask those attending about their vaccination status, and the rate continues to go up. Initially, two out of three were unvaccinated, now it is one out of three, he said.
"But the fact that we are there, getting their opinion, asking feedback on what we think we are learning from them, has a significant impact."
He does not attribute the increase directly to their work, as much more research and outreach is still needed. "But the fact that we are there, getting their opinion, asking feedback on what we think we are learning from them, has a significant impact," Kreuter said. "The history of community engagement backs this up." 
The impact is compounded by efforts to break down barriers to access, for instance, by bringing vaccinations to the sites. "At our last event, seven kids were vaccinated," Kreuter said.  
The insights gleaned from this kind of outreach are now guiding public health messaging and will help team members avoid communications pitfalls as they address vaccine hesitancy and counter misinformation.  
And along the way, they get to see the youth's amazing dancing skills, which for Kreuter is its own reward.
Explore Our Resources
Do you want to share trustworthy, factual information about COVID-19 basics, vaccines, diversity & inclusion, or clinical trials in your community or networks? Check out our Resource Catalog to find the information you need.