NIH CEAL Accomplishments — By the Numbers
October 28, 2022
The NIH Community Engagement Alliance (CEAL) is built on the strength of local organizations that have a direct line to the communities and individuals hardest hit by COVID-19. Announced just six months into the pandemic, the multi-million dollar effort has funded outreach and engagement efforts with two goals:
To provide accurate and clear information about vaccination
To facilitate the inclusion and participation of diverse communities in vaccine and therapeutic clinical trials to prevent and treat COVID-19
Judging from the numbers, CEAL has made a big impact in the two years since its launch. Twenty-one CEAL teams across 21 states, the District of Columbia, and Puerto Rico have the potential to reach nearly 91 million people in 102 counties. These teams are collaborating with nearly 1,000 organizations, including health care providers and hospital systems, academic and research organizations, schools, associations, and independent businesses. Most importantly, the partners include nearly 550 community-service, faith-based, grassroots, nonprofit, social service, and civic community-based organizations. Working with these partners, CEAL research teams have held more than 1,500 local events reaching more than half a million participants. This includes nearly 750 vaccination events at which nearly 200,000 people received a COVID-19 vaccine. More than 600 people have signed up to participate in COVID-19-related clinical trials.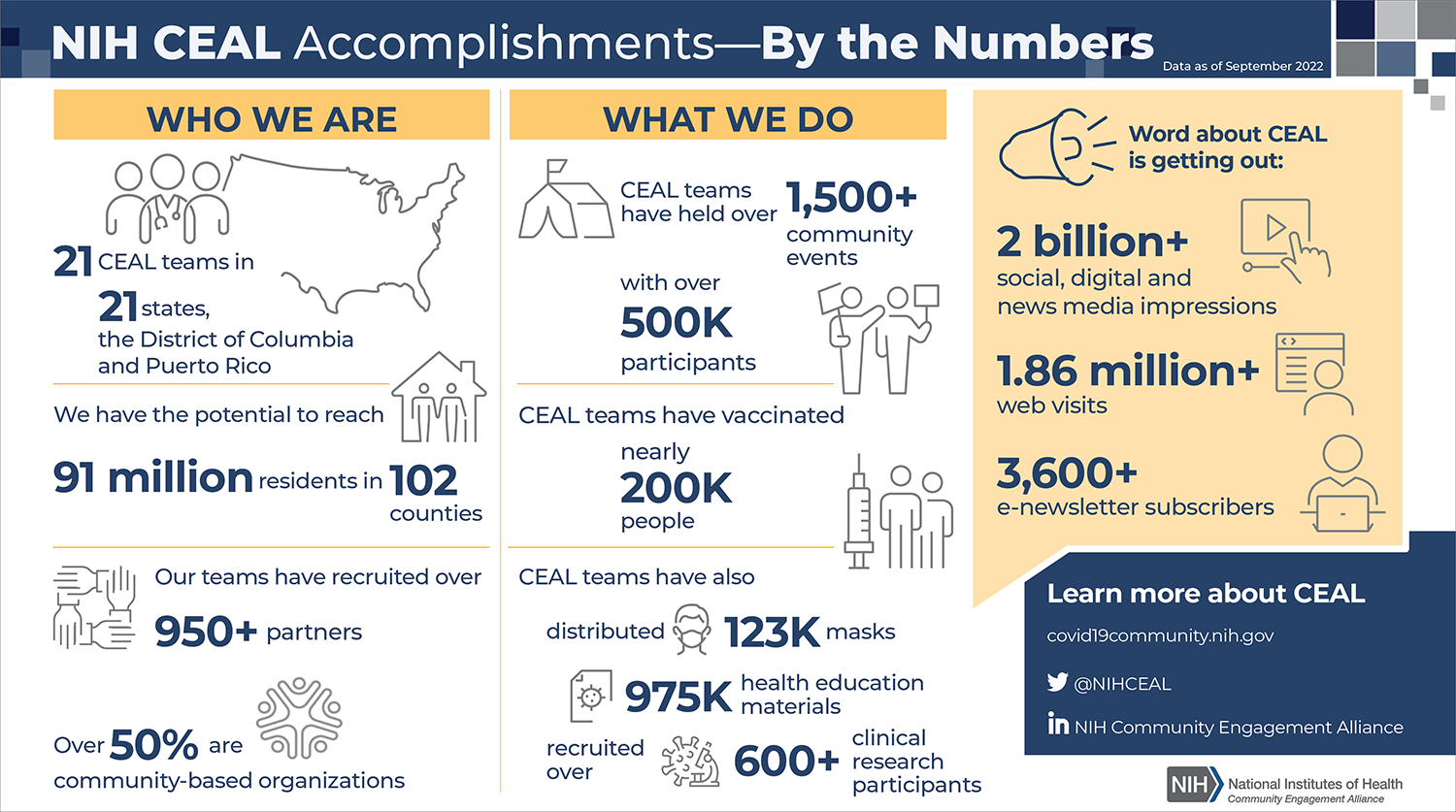 NIH CEAL Accomplishments — By the Numbers. Data gathered from CEAL reports generated as of September 2022.
The CEAL effort has included communications efforts on both the local and national level. The teams have created and distributed nearly one million printed copies of accurate information about COVID-19, including information on how to avoid infection and recognize symptoms of the disease. Information about CEAL has had the potential to be viewed as many as two billion times across social, digital, and news media.
So far, NIH has invested more than $40 million in the CEAL network for community-engaged research and the strategic partnerships developed in communities across the nation. NIH will continue to support the program for at least a third year.
CEAL is helping to foster community connections and collaborations that would not have been possible otherwise, says Matthew Kreuter, principal investigator for the Missouri CEAL research team. "What CEAL has done is roll out a big welcome mat for community partners to get help advancing their priorities, needs, and innovations. In St. Louis, the CEAL model for community engagement not only works, it has been transformative."